Easy digital signing & protect your PDF documents, designate PDF author.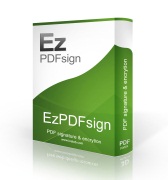 EzPDFsign is a PDF digital signing & encrytion software tool, it allows you to encrypt PDF document, sign them using a digital certificate and timestamp the signature.
EzPDFsign comply with PDF standards so your document will be readable/editable with all standard PDF programs, you can use EzPDFsign to improve your PDF document authenticity and integrity.
In support of Adobe's Certified Document Services (CDS) program for securing paperless initiatives, EzPDFsign software digital certificates your PDF documents to provide assurance for electronic documents.
EzPDFsign enable organizations and individuals to use digital signatures to sign Adobe PDF files with confidence. Recipients feel more confident by seeing the visual trust indicators that verify who published the document and whether it has been altered.
Key Features
digital signing PDF documents
support timestamped signature
support multi-signature
protect PDF documents with password
set PDF document permissions
set PDF document author & tites
set PDF document searching keywords
set other PDF document information
Current version: 1.0.1 FREEWARE Supports Windows 2000/XP/2003/2008/7 32bit & 64bit
signing PDF document, PDF digital signature, PDF signature, PDF signing, PDF digital signing, PDF timestamped signature, PDF timestamp signing, PDF encryption, PDF encrytion software, encryt PDF document, encryting PDF, apply PDF passwords, change PDF permission, change PDF permissions, set PDF password, modify PDF permission, modify PDF permissions, change PDF password, set PDF info, set PDF information, set PDF metadata, set PDF metainfo, change PDF metadata, set PDF metadata, modify PDF metadata, edit PDF metadata, edit PDF file info, set PDF info, set PDF author